For some, an early arrival allowed participation in the Friday activities. A short road run was organised which took us to Mary Arden's Farm, the childhood home of Shakespeare's mother. After a cup of coffee and a tour for the energetic it was time to retire to the local pub for some lunch. For yours truly, there was a wheel to change, since on returning to the 1913 Standard, I discovered, I had a puncture.
Upon our return to Stratford Manor, it was time to welcome the remaining guests. By the time dinner was served, 16 cars and 32 people had arrived to enjoy two days of Edwardian and Vintage motoring. One of our entrants was celebrating his 70th birthday, and a cake together with a card signed by all the other entrants were presented to Geoff Downing.
Presentation of Birthday cake to Geoff Downing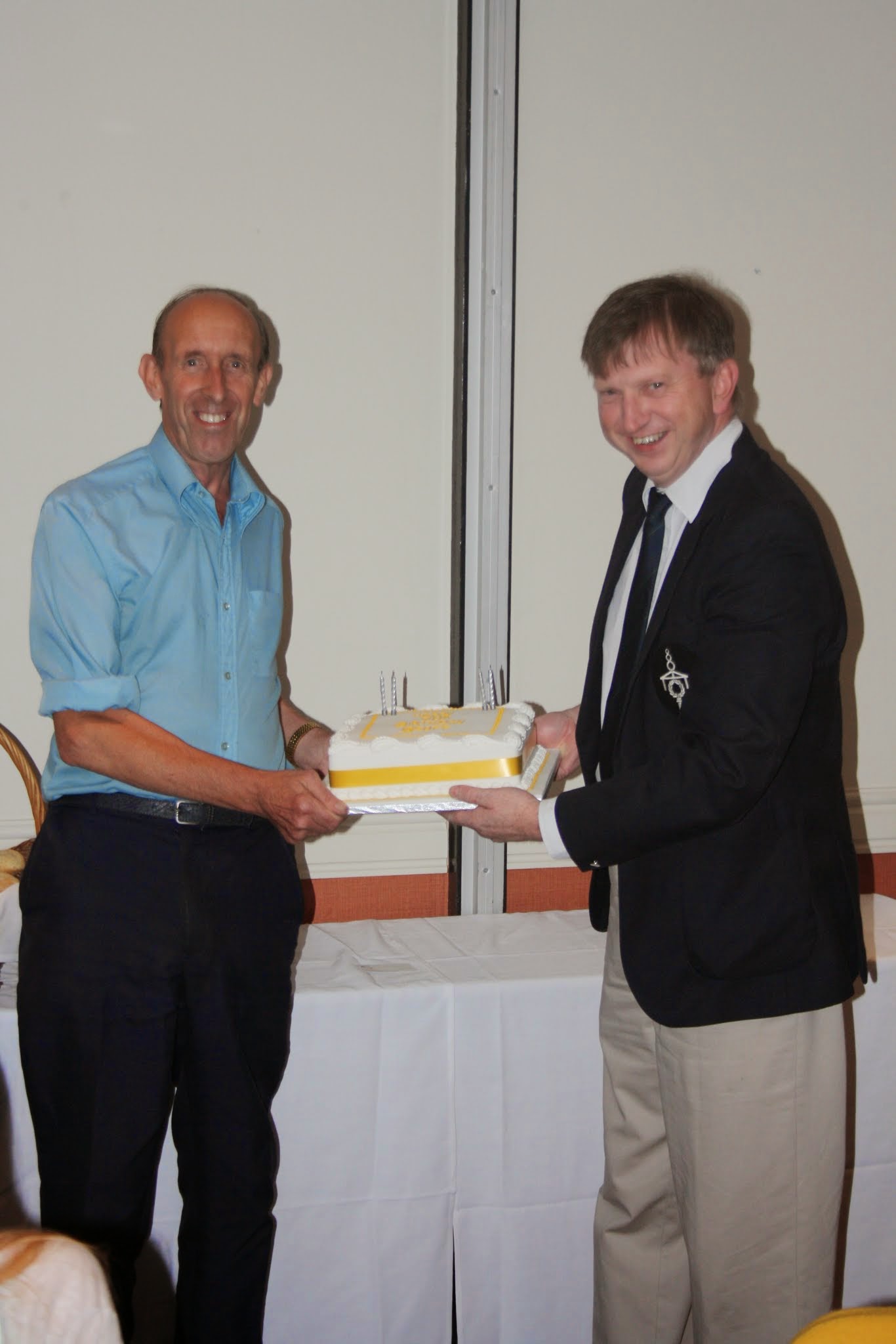 (photo courtesy of Phil Homer)
Saturday morning started damp, and apart from a brief dry spell, was to get considerably wetter by the time the entrants arrived at Kenilworth Castle, to be greeted by the Mayor of Kenilworth, Councillor John Cooke. A few brave souls decided to tour the castle, but the majority decided to head the short distance to The Castle and Ball which was the designated lunch venue.
After lunch, the mayor of Kenilworth gave a few words of welcome. By this time, the weather had improved enough for many more of the entrants to take a tour of the Castle, before continuing on the return route to the hotel which went via Warwick.
The Annual Dinner followed in a private Dining Room at the hotel, and I would like to acknowledge the help of Ann Humphreys in running the raffle this year. Many of the entrants had very generously donated raffle prizes which contributed to the success of the evening.
Sunday morning provided the chance for further mechanical exercise, with a short road run to Walton Hall Hotel. This had been the venue of the 1974 Standard Register Rally and it was good to be returning after 40 years. Three of the entrants on this years event (Barry Weatherhead, Robert Browett and Paul Newsome) had not only been present at the 1974 event, but were still driving the same cars that they had 40 years ago.
Results:
Butterworth Cup (Most improved car over the last twelve months)
Winner: Paul Newsome (1926 SLO4 Charlecote)
The Barr Trophy (Rally to the Event)
Class 1 - winner Clive Watson - 1912 Brighton Torpedo (140.6 formula miles)
Class 2 - winner Phil Homer - 1921 SLO (124.7 formula miles with turning point of Broadwell, Gloucestershire)
- 2nd Conan Lewis - 1924 V3 Kenilworth (88.4 formula miles)
- 3rd Guy Singleton - 1924 V3 Kenilworth (77.5 formula miles)


For many more pictures from this years event, then please visit this selection kindly supplied by Phil Homer.